HRC Dayton has been a leader in hair restoration for decades—and one of the secrets to our longevity is our ongoing commitment to science and clinical knowledge. We are devoted to the field of trichology, in particular; this is the branch of dermatology concerned with the scalp, the follicles, and the underlying causes of hair loss. We approach each client's needs from the standpoint of trichology and seek to provide solutions that are backed by the latest medical know-how. We invite you to learn more about our options in trichology and scalp treatments.
About Trichology
At HRC Dayton, we take an individualized approach to each client's needs. It starts with a consultation, where you meet one-on-one with one of our stylists. During this consultation, we'll examine your scalp and follicles, which can sometimes give us a better understanding of why you might be losing your hair. From there, we're able to recommend the best treatment for addressing your needs.
Sometimes, this treatment might come from our catalog of trichology and scalp treatments. We're proud to offer clinically-tested and proven solutions from the Head First line, one of the world's foremost sources of trichological care.
We're proud to be the go-to source for Head First in the Dayton, Ohio area.
Trichology Solutions from Head First
The Head First product line is rooted in trichology, and in the reality that hair growth starts with a healthy scalp. The Head First product line includes a full spectrum of lotions, shampoos, conditioners, and other topical hair solutions that help restore your scalp to its proper state.
It begins with an evaluation. Using state-of-the-art technology, we will perform a complete scalp assessment and an analysis using a sophisticated micro camera and unique software, all in order to identify the cause of your ailment or hair loss.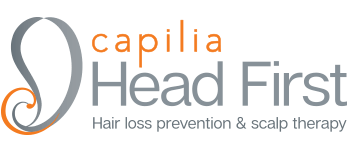 Capilia Head First Hair Loss Prevention
From there, our stylists will develop an individualized treatment program. The overall goal of the program is to detoxify and purify the scalp and hair follicles by minimizing and eliminating impurities of the scalp and sebum that block healthy hair development and hair growth. Laser hair therapy treatment may also be recommended to strengthen and invigorate weak or miniaturized hair follicles and stimulate healthy hair growth.
Follow-up is another part of the process. An HRC Dayton stylist will follow the progress of your hair loss and scalp treatment and will take regular images of your scalp in order for you to see the results for yourself.
Learn More About Head First
The bottom line is that, with Head First, the effects of hair loss can be avoided or reversed, all through a natural, clinically-calibrated program that's tailored to your needs. To learn more, or to schedule your evaluation, contact HRC Dayton today and ask for an appointment!